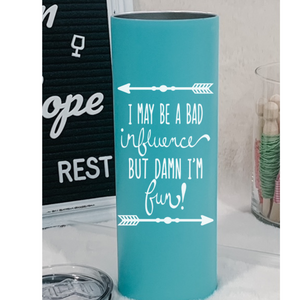 ...BUT DAMN I'M FUN!

These tumblers are super cool and perfect for keeping drinks cool all summer long or your coffee hot on winter days.  PLUS, they glow in the dark!

- Stainless steel, double walled 20oz tumbler.  Non-toxic & BPA free
- Comes with a clear push-on slide lid and re-usable straw. 
- 8.25"H x 2.75"D

Handwash only.

PLEASE NOTE:  We try hard to achieve true to color photos of our products.  Color may vary slightly from actual photo.